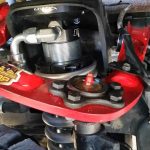 JBA STD Toyota UCAs for the Tacoma, 4Runner & FJ Cruiser VS JBA HD Toyota UCAs for the Tacoma, 4Runner & FJ Cruiser
First I will start with the STD (standard duty) a-arms, they were designed for the weekend worrier who worked hard all week and wants to play hard on the weekends with his Toyota.  The JBA UCAs will give you 1" extra down travel on the front suspension with more ball joint travel and strut spring clearance.
The JBA STD A-arm tubing is 5/32" wall and 1" dia. with a Moog style K6292 ball joint. On the JBA HD (heavy duty) A-arms are thicker tubing, with 3/16" wall and 1-5/16" dia with 11ga guests on the bushing bongs. The HD a-arms are for more extreme offroad abuse like offroad racing, rock crawling and dune jumping.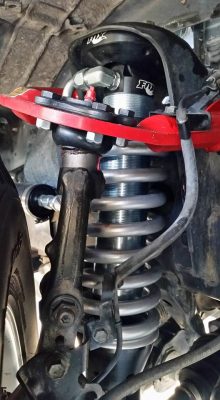 Both STD & HD will work with the Fox extended travel coilovers and the JBA Coilovers.
If you jump your Toyota you need the HD a-arms, If your steering knuckle is reinforced with a weld on gusset you need the HD a-arms.
The Ball joint range of motion
Up travel is 40 deg off of center line of the ball joint, down travel is 50 deg off of center line. Full range of motion is 90 deg. Note: you will not get that kind of extreme travel with a uni-ball joint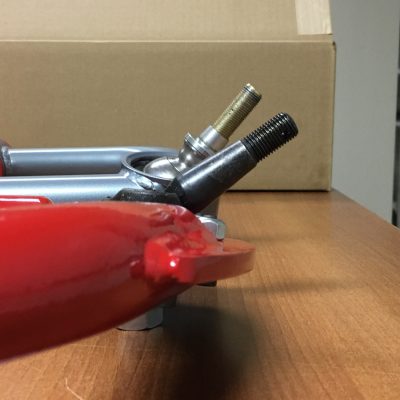 More spring clearance is
More suspension travel
More articulation, See JBA vs Uniball
More traction on the trails
More Caster
JBA UCAs give you MORE for your money!!
In conclusion the JBA STD a-arms are for a daily driver/weekend worrier the JBA HD a-arms are for extreme offroad use.
The JBA Upper A-Arms, upper control arms (UCAs) were designed for your lifted Toyota Tacoma "05" Plus, 4Runner "03" Plus, FJ Cruisers "07" Plus and will directly replace your stock upper a-arms. The original equipment a-arm (UCAs) hits the spring,  on Toyota Tacoma with a lift kit. The JBA A-Arms are compatible with all the lift kits on the market today! These A-Arms (UCAs) were designed to fit Toyota Tacoma, 4Runner, FJ. Made of heavy duty tubing, red powder coat finish, with replaceable ball joints. The A arms (UCAs) are assembled and ready to bolt onto your Toyota Tacoma, 4Runner,  or FJ.
Sold as a set, 1 left & 1 right UCA.
Both HD and STD UCAs will give you more caster!