JBA Texas LongArm Jeep Liberty KK
This design has been in my head for many years.  When I got a phone call from Nathan he wanted a long arm suspension on his Jeep Liberty KK.  After talking with Nathan I started putting my design in Auto-cad Inventor.  It started to take shape!!
Nathans Jeep was driven from Texas to PA and arrived on January 17, 2016.
Parts used on the build
4) ORI struts 14" long
Currie IFS center diff, Ford 9" with 5:13 gears
RCV custom CV axles
Howe Performance power steering pump, reservoir and cooler
Grand Cherokee (WK) parts

front bearing hubs
cut down steering knuckles
tie rod ends

Chevy suburban string box & Idle arm
Rear suspension
The rear is a Dana 44 out of a JK with factory electric locker and 5:13 gears.  We built a custom 3 link mount, to do this we had to remove the fuel tank, muffler and exhaust system. The fuel tank is an modified fuel tank from an old Wrangler. We mounted the fuel tank were the spare tire was mounted from factory.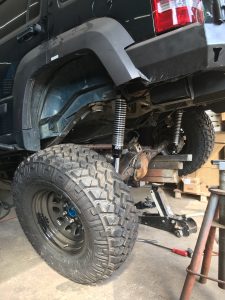 Front suspension
We started the build by clocking the transfer case to center the front drive shaft. We built a 10" cradle drop to hold the steering box and the Currie diff. The control arms are about 10" longer then the factory a-arms and mounted to the cradle.